Sump Pump Systems Installed Near Boston, Lowell, Manchester
Patented Sump Pump Systems Installed by Certified Waterproofing Contractors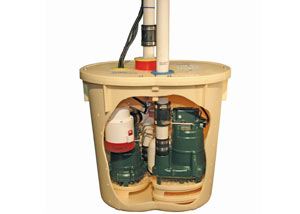 An inside look at our TripleSafe Sump Pump System, including the airtight lid, primary pump, secondary pump, and battery backup sump pump.
Your sump pump is your main line of defense against a basement flood when you have a perimeter drainage system installed in your home. If you can't count on your sump system to be powerful or reliable enough, then you can't count on a dry basement. And what good is the space if it gets wet?
At Northeast Basement Systems, we install only the best sump pump systems available anywhere in the Massachusetts & New Hampshire area. We have an answer to clogging sump pumps, power failures, torrential rainfall, and much more!
We service Boston, Manchester, Lowell as well as Cambridge, Lynn, Nashua, Somerville, Lawrence, Waltham, Haverhill, Arlington, Salem, Beverly, Everett, Woburn and nearby. We can help you dry your basement! For a free sump pump system quote, call or e-mail us today!
Our Sump Pump Systems
Our sump pump systems include the following features:
We also offer our IceGuard® anti-freeze device as an additional feature you can add on to your sump pump system:
TripleSafe Complete Sump Pump System

The TripleSafe Sump Pump System is our most reliable sump pump system. It provides three levels of protection for your basement and your peace of mind.
For normal functioning, the TripleSafe has a powerful, cast-iron Zoeller ⅓ horsepower sump pump set at the lowest level. For heavy volumes of water or in case of primary pump failure, a second, more powerful Zoeller ½ hp pump set a bit higher in the liner will take over.
In case of a power outage, our UltraSump® battery backup sump pump, set at the highest level, will pump 11,500 gallons or more on a fully charged battery!
TripleSafe Specifications
SuperSump® Premier Sump Pump System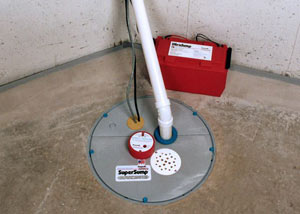 An UltraSump® battery-powered pump to the SuperSump® system is added so the drainage system can operate when the power goes out. The battery backup system will recharge automatically.

Our SuperSump® Premier Pump System is an effective and more economical solution that can help keep your basement dry.
The SuperSump® includes a powerful Zoeller ⅓ horsepower cast-iron sump pump, capable of pumping 2,220 gallons of water per hour at an 8-foot head out of your basement.
The SuperSump® can be installed with an optional UltraSump® Battery Backup Sump Pump, which can pump out 11,500 gallons or more on a single charge!
SuperSump® Specifications
SmartSump™ Crawl Space Sump Pump System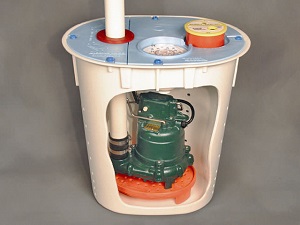 The SmartSump™ system is designed specifically for keeping crawl spaces dry and clean.

If you're looking for a crawl space sump pump solution, the SmartSump™ Crawl Space Sump Pump System is the ideal option. The SmartSump™ is specifically designed for crawl spaces and can provide all the protection you need from leaks and floods.
The SmartSump™ comes equipped with a cast-iron Zoeller® primary pump with the option of adding an UltraSump® Battery Backup Sump Pump. This sump pump is designed to fit with the CleanSpace® liner and has a sump alarm to ensure you always are aware of any water in your crawl space.
SmartSump™ Specifications
---
More About Our Sump Pump Systems...