Crawl Space Repair Contractor in Boston, Manchester, Lowell
Dry Crawl Space Products & Vapor Barriers In Massachusetts & New Hampshire
Each part of a home's system plays a key role that affects the rest of the structure. Because the parts of your home are interconnected, if a crawl space rots, grows mold or has foundation issues, this can extend to the rest of the house too.
Northeast Basement Systems specializes in crawl space problems of all types including mildew smells, crawl space sealing, moistures problems and more. Get our free crawl space repair quotes Boston, Manchester, Lowell, Lynn, Cambridge, Somerville, Nashua, Waltham, Haverhill, Lawrence, Arlington, Salem, Beverly, Everett, Woburn and nearby.
Signs You May Have a Crawl Space Problem:
Interior Wall Cracks
Uneven Floors
Bad Smells in your Home
Worsening Allergies or Asthma
Fixing your crawl space can help avoid unnecessary repairs, make your home healthier and can save money utility bills too. Plus, with an encapsulated crawl space you also get valuable storage space under your house too.
If you have a problem with your crawl space, we can help fix it. Whatever the issue, we have the products and experience to repair your crawl space the correct way.
Crawl Space Repair: Before and After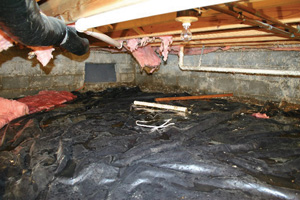 Moisture, mold and falling, failing insulation are problems in this crawl space, which hasn't been properly sealed.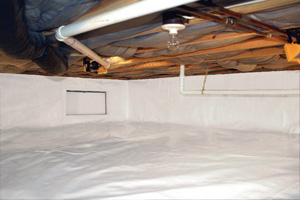 The encapsulation treatment totally separates and protects the crawl space interior from outdoor conditions, keeping the space clean and dry.
Expert Crawl Space Repair in Massachusetts & New Hampshire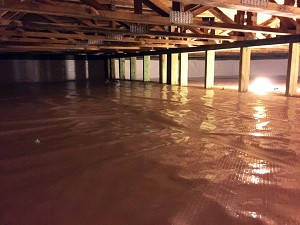 All-size solutions. The CleanSpace® Crawl Space Encapsulation System can provide moisture control for any size crawl space.
At Northeast Basement Systems you get a free crawl space repair quote which includes an inspection, consultation with one of our professional experts, and a written cost estimate. To get started simply call or e-mail us!
Your free crawl space repair quote includes an on-site inspection, professional consultation, and written quote. Before your free quote, we'll also send you a copy of our full-color Crawl Space Science Book. Our book includes 88 pages of information on crawl space issues, how they're solved, and what our products can do for you. Call or e-mail us today to get started!