Superior Foundation Wall Repair Systems Near Boston, Lowell, Manchester
Exclusive PowerBrace™ system can fix bowing or buckling foundation walls
Most homeowners are worried when they notice their foundation walls are beginning to tilt, bow, or buckle inward, and rightly so. This is a signal that the outside pressure from water and soil is becoming too much for your foundation to withstand.
At Northeast Basement Systems, we recommend the application of the PowerBrace™ foundation wall repair system, specifically designed to stop inward movement and potentially return the foundation back to its original position.
PowerBrace™ features
Outside excavation is not needed.
Walls can be improved over time by tightening the system
Rust resistant, zinc-coated design
Clean, tidy appearance when set up
Installed with minimal disturbance in the basement
This product takes advantage of steel I-beam construction to provide support for foundation walls, preventing any further degradation. This patented, proven system can be tightened over time to straighten bowing or tilting walls.
Get a free quote for foundation repair
Get a FREE Quote!
We can handle foundation repairs of any size and shape! Call or contact us today to find out more or to get a free quote. We serve Boston, Manchester, Lowell in Massachusetts & New Hampshire.
Give your buckling, bowing foundation walls the support they need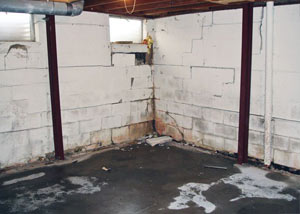 Don't waste time or money on poor quality solutions. The PowerBrace™ system includes a zinc-coating that protects it from this kind of corrosion.
If exterior excavation is not a possible option, don't hesitate to ask our specialists about the unique benefits afforded by our patented PowerBrace™ repair system.
The professionals at Northeast Basement Systems will be able to identify if your situation will benefit from this type of repair system, as opposed to traditional foundation repair techniques.
The PowerBrace™ system uses an effective, patented approach for straightening and supporting buckling or bowing foundation walls over time.

PowerBrace™ wall system installation procedure
One of the greates advantages of the PowerBrace™ is that installation requires no exterior excavation, leaving your soils and landscaping safe from disruption. Installation is quick and easy, preventing any further bowing or buckling.
Massachusetts & New Hampshire's full-service foundation wall repair contractors
At Northeast Basement Systems, we are committed to repairing shifting, tilting, buckling, and bowing foundation walls the right way the first time, providing you with a long-lasting solution and returning your property to its original condition.
If you're interested in any of our services, call or contact us today to find out more or to schedule a Free Estimate. We proudly serve all of the Greater Boston & Southeastern New Hampshire area, including Boston, Manchester, Lowell, Cambridge, Lynn, Nashua, Somerville, Lawrence, Waltham, Haverhill, and the surrounding cities and towns.
Looking for a price? Get a no cost, no obligation free estimate.