Professional Carbon Fiber Wall Reinforcement Contractor Near Boston, Manchester, Lowell
Super-strong strips. The CarbonArmor® system utilizes epoxy and carbon fiber strips to strengthen and stabilize foundation walls that are cracked or bowed.
Repair foundation walls with the stronger-than-steel CarbonArmor® reinforcing system
At Northeast Basement Systems, we offer the CarbonArmor® Wall Reinforcing System, which uses cutting-edge technology to repair cracked or bowing foundation walls.
CarbonArmor® takes advantage of the same state-of-the-art technology that the US Army Corp of Engineers, Department of Defense, and aerospace engineers use to reinforce bridges, skyscrapers, and bomb shelters- providing a long lasting solution for reinforcing and stabilizing basement walls.
CarbonArmor® features
Composed of 10-times stronger than steel fiber-reinforced polymer
Engineered specifically for stabilizing and reinforcing basement walls
Wall pressure absorbed by high-strength epoxy resin
No exterior excavation required
A typical one-day or less installation time
If you're noticing bowing basement walls or foundation wall cracks, this is a signal that your foundation needs repairs. With our effective carbon fiber wall repairs, we can help you repair foundation cracks or reinforce any bowing walls.
While the severity of bowing or cracking foundations may vary, they all share one thing in common- they won't go away by themselves and will worsen over time. The expert team at Northeast Basement Systems can identify the reasons why your foundation is suffering damage.
After performing an in-depth examination, we can identify if a carbon fiber wall reinforcement system is the appropriate answer for your individual needs.
Get a Free Estimate for basement wall reinforcement in Massachusetts & New Hampshire
Schedule A Free Estimate
We are your local, professional resource for foundation repair! Call or contact us today to learn more or to set up a Free Estimate in Boston, Manchester, Lowell and nearby.
Don't delay repairing damaged foundation walls
Foundation damages are usually fairly easy to notice. Foundation walls composed of concrete blocks will usually crack or split along the joint lines between blocks. This usually manifests as a horizontal crack near the mid point of the wall and "stair step" cracks near the corners.
Poured concrete walls usually exhibit a diagonal crack from the bottom corners extending towards the top center. With both types of foundations cracks can also be joined by bowing or tipping wall sections.
Nearly invisible, but extremely strong. The foundation wall is thoroughly cleaned to ensure adhesion, then each carbon fiber strip location is masked off and then saturated with epoxy. CarbonArmor® reinforcement will essentially become part of the wall itself, and is easily hidden underneath a coat of paint.
Slim profile repairs with carbon fiber straps and epoxy
When our foundation repair specialists have identified how many carbon fiber strips will be required, the installation itself is quick and involves minimal disruption. Each CarbonArmor® strip is adhered with high-strength epoxy, enhancing the strip's potency even further. After completing the repairs, the strips will "vanish" when the entire wall is painted.
Stop inward wall movement. The ArmorLock® system consists of straps and brackets that connect CarbonArmor® reinforcement strips to the building's perimeter framing.

CarbonArmor® & ArmorLock® can repair tilting walls
Soil pressure can cause the top of a foundation wall to tilt inward, and in these circumstances the CarbonArmor® needs additional reinforcement.
The ArmorLock® system is specifically designed to work in concert with the CarbonArmor® system, providing added strength.
The ArmorLock® system uses a super-strong carbon fiber strap, fused to each CarbonArmor® strip, which is then attached to an extremely durable steel bracket that is lag screwed into the nearby rim joist.
The implementation of this system will lock the foundation wall to the rim joist, stopping soil pressure from forcing the top of the wall inward and away from the framing.
Due to the minimal size requirements of ArmorLock®, most installations will not need any relocation of basement equipment.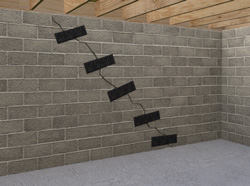 The experts at Northeast Basement Systems use CarbonArmor® strips to reinforce a repaired crack in a foundation wall.

Strengthen wall crack repairs with CarbonArmor® wall stitches
Using patching mortar, epoxy, or polyurethane injection, a cracked foundation wall can be repaired.
Regardless of the technique used, CarbonArmor® strips can be used to reinforce via a wall stitch repair.
The specialist from Northeast Basement Systems will epoxy several strips across a crack, strengthening and stabilizing the wall.
The performance of CarbonArmor® wall stitches is unmatched for supporting a solid crack repair.
Northeast Basement Systems can help you stabilize your foundation with carbon fiber reinforcement solutions
We are your local, authorized foundation repair experts, specializing in repairing foundation wall cracks and bowing or buckling basement walls. Don't ignore these issues! Call or contact us today to find out more or to schedule a Free Estimate. We proudly serve all of the Greater Boston & Southeastern New Hampshire area, including Boston, Manchester, Lowell, Cambridge, Lynn, Nashua, Somerville, Lawrence, Waltham, Haverhill, and surrounding cities and towns.
Looking for a price? Get a no cost, no obligation free estimate.