The Best Source For Bowing & Buckling Foundation Wall Repair Near Boston, Lowell, Manchester
Our specialists can diagnose and repair foundation wall issues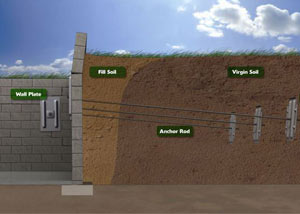 Wall anchors can solve many of the issues that plague foundation walls, including inward movement such as bowing or buckling.
Foundation wall plates are installed, through which steel supports connect to the soil anchors away from the foundation.
The wall plates will evenly redistribute pressure. By tightening the screws on the the wall plates, the anchors will pull the wall back to vertical, repairing the foundation in the process.
Are you experiencing inward movement along your foundation walls, or perhaps noticing that they are bowing or buckling? The experts at Northeast Basement Systems have patented, proven solutions to remediate these kinds of issues.
Foundation warning signs:
Stair-step cracks or horizontal cracking in the foundation walls
Diagonal cracks found near the corners of poured concrete walls
Walls are bulging or bowing inward
Walls sliding inward towards the bottom
Walls leaning inward near the top
Damaged foundation walls surrounded by wet, clay soils
Expansive clay soils around the structure
We provide engineered solutions for foundation repairs, and when a wall anchor system isn't a feasible option, we recommend the use of the PowerBrace™ Wall System or the CarbonArmor® Wall Reinforcing System.
Get a free foundation repair estimate
Get a FREE Quote!
With our help, you can straighten those bowing or buckling foundation walls! Our patented, proven solutions are warrantied, and many feature quick and easy one day installation. We service Manchester, Boston, Lowell and the neighboring areas in Massachusetts & New Hampshire.
Signals of bowing foundation walls
Hydrostatic pressure and expansive soils are the most significant causes of inward movement in foundation walls. Foundation settlement can also cause cracking and bowing, and these issues need professional diagnosis to correctly ascertain what foundation problem your home suffers from.
Here are a few examples of damaged foundations caused by expansive soils and hydrostatic pressure.
(Click each photo to enlarge.)
Major causes of bowing & cracked foundation walls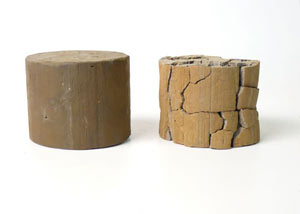 How does moisture affect clay soils?
Both of these clay samples actually started out as identical. The right sample was dried out, whereas the leftmost sample was kept hydrated.
It's very apparent how a little bit of moisture can make a dramatic difference in the soil, and therefore the pressure around your foundation walls!
Foundation walls are under a massive amount of pressure from the soils around them. The pressure will vary depending on four different factors:
With all this exterior pressure, it's no wonder foundation walls struggle to keep up!
This buildup of pressure from the outside can hit a breaking point, after which the foundation walls will begin to fail.
With changes in temperature, hydrostatic pressure, and expansive clay soil, enough stress can be placed upon foundation walls causing inward movement, and even the potential for collapse.
Water evacuation from downspouts and gutters can also add to foundation problems by letting water accumulate in the soil surrounding your structure.
Without directing roof runoff away from your foundation, the soil will become heavier and more expansive as it becomes more saturated with water.
If you would like a free foundation wall repair quote for your home, call or e-mail us today!
Alternative foundation repair solutions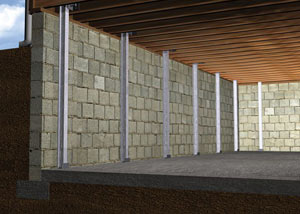 A foundation wall being repaired with PowerBrace™. This innovative solution can prevent further inward movement while returning the wall to its original vertical position.

In certain situations wall anchors are not an option for bowing wall repair, such as when the yard outside is inaccessible. Northeast Basement Systems has two different options in this case, the PowerBrace™ Foundation Wall System, and the CarbonArmor® Wall Reinforcing System.
The PowerBrace™ system is a unique solution for stabilizing failing basement walls, as it can also potentially straighten them over time. The PowerBrace™ is an effective option if the yard outside cannot be accessed, and features several advantages over the established systems. This product is rust-resistant zinc-coated and can be quickly installed in your home without disrupting your lawn or other landscaping.
CarbonArmor® is another patented, proven answer to bowing or cracking foundation walls. This product uses carbon fiber technology to create a reinforced polymer that is 10 times stronger than steel specifically designed for basement wall applications. This system offers a slim profile alternative when wall anchors aren't an option.
Don't waste time or money on total foundation replacement
Foundation repair is no small feat, and it's a job you'll only want done once- the right way the first time. If you're in the market for foundation repair, be wary of costly procedures that might not fix the problem and also quick fixes that won't get the needed results.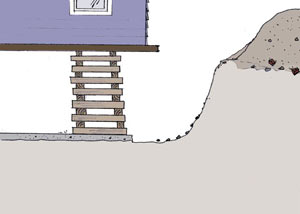 Don't waste money or time on a total foundation replacement.
This kind of repair is extremely expensive and very time consuming, and also requires major excavation to the outside of the home.
A complete foundation replacement is an extremely costly and time intensive repair to have performed. The whole perimeter of the home needs to be excavated, including landscaping, sidewalks, and gardens.
The house is subsequently jacked up, allowing for the foundation walls and floor slab to be removed. The foundation is rebuilt after this, at which point the home can be relocated back onto the foundation and the excavation can be backfilled.
This kind of solution isn't addressing the real problem, which is the soil around the foundation. Even with a newly built foundation, you'll still face the same issues that were present beforehand. After all those costly repairs, you might find yourself back in the same unfortunate circumstances.
Don't waste time with the competition, choose Northeast Basement Systems for a non-disruptive solution that is warrantied for 25 years.
Expert foundation wall repair in Massachusetts & New Hampshire
We are proud to offer patented, proven solutions to fix bowing or buckling foundation walls. Our warrantied answers will resolve your foundation problems, leaving you safe and secure for years to come. Call or contact Northeast Basement Systems to get a free quote!
We proudly offer our services throughout the Greater Boston & Southeastern New Hampshire area, including Boston, Manchester, Lowell, Cambridge, Lynn, Nashua, Somerville, Lawrence, Waltham, Haverhill, and the surrounding cities and towns.
Looking for a price? Get a no cost, no obligation free estimate.